15 Tour de France were won by the winners of the Tour de l'Avenir: Felice Gimondi, Joop Zoetemelk, Greg Lemond, Miguel Indurain, Laurent Fignon, Egan Bernal and Tadej Pogačar.
Memories ... of the Future
The 59th edition of the Tour de l'Avenir will take place from August 20 to 27, 2023.
It was five years ago. Five years already. Only four years. We observed Tadej Pogačar on the final podium erected in the mountain village of Saint-Colomban-des-Villars at the conclusion of the Tour de l'Avenir 2018.
A revealing edition, even more than usual. We remember thinking that he did not really look like this young Slovenian with adolescent looks. He was not twenty years old. Nothing was known of him yet, except all the same that he had won the round of the U23 Nations Cup, of which the famous new version of the Peace Race was the support.
On this Tour de l'Avenir, he had come to seek confirmation. He had been amazing throughout the Savoyard sequence. However, he had not signed a resounding feat, not even a stage victory, but he had defended himself with grit and incredible mastery, alone against almost everyone, while his opponents at the time were 'called Brandon McNulty – who had become one of his best teammates -, Alexander Vlasov (5th in the recent Tour de France) or even Ivan Sosa, cited then as the great favorite to succeed his Colombian compatriot Egan Bernal, winner of the Tour de the future 2017.
Tadej Pogačar had not trembled when each day a dangerous breakaway jeopardized his advantageous position. He put himself at the helm of the peloton, the Colombians in his wheel whose defense was unraveling under the rhythm imposed by the Slovenian, and it was so until the last four kilometers of this edifying Tour de l'Avenir where he s imposed at the end of the suspense.
We remember having thought to ourselves: "Who is this guy? Not really a roller, not a pure climber, but he can do everything. "And we had come to this somewhat simplistic conclusion, we are willing to admit, but all the same premonitory: "This Pogačar is of the stamp of a Merckx, or a Hinault, in anyway a very big one…. »
Curiously, a certain Jonas Vingegaard also took part in this 2018 edition of the Tour de l'Avenir. And there, curiously, not the slightest memory… He was however part of the victorious Danish selection of the Orleans team time trial, but we noticed rather that it was led by Mikkel Bjerg, world champion hopes of the specialty. De Vingegaard, not the slightest trace of an individual performance, which did not prevent him from joining the World Tour the following year. His talent had not gone unnoticed by everyone…
Five years. Since then, Tadej Pogačar and Jonas Vingegaard have won three Tours de France between them!
To say that the Tour de l'Avenir is revealing is an understatement. And it not only gives future yellow jerseys, but regularly delivers future sizes to elite cycling, and provides a substantial part of the current Tour de France peloton.
Jumbled up, images come back. It was Mads Pedersen, the future world champion, who won at Arbois in 2015. Or Kasper Asgreen who resisted the peloton at Loudéac in 2017, and Fabio Jakobsen who won the sprint that year at Melrand. It's still Tom Pidcock who is damaged in a terrible fall in the diving on Privat, in 2019, which does not prevent him from being a prodigy of the descent as we saw on the recent Tour de France where this little guy with great talent won the mythical stage of Alpe d'Huez!
No doubt. When you follow the Tour de l'Avenir closely, whether on the road, on Eurosport, on social networks or in the regional press which fulfills its role magnificently, you are sure to have a very good idea of what will be world cycling and the Tour de France peloton in the very near future.
Philippe BOUVET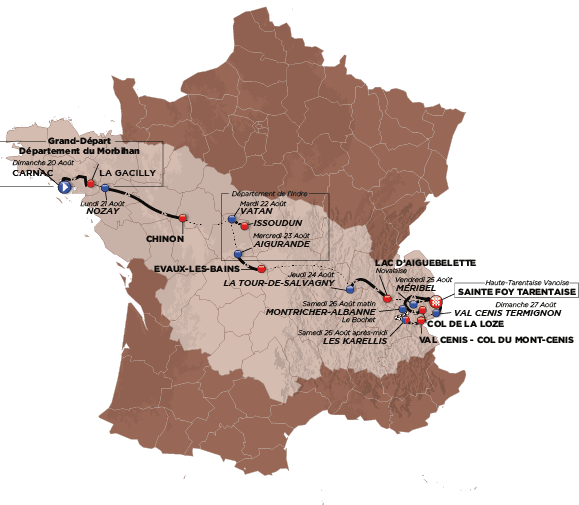 Date
StartFinish
Type
Distance
Climbing
Video
Presented by

Stage 1

20 August

Sunday 20 August

plaine

Stage 2

21 August

Monday 21 August

plaine

Stage 3

22 August

Tuesday 22 August

clm_par_équipe

Stage 4

23 August

Wednesday 23 August

Aigurande 

Evaux-les-Bains

accidente

Stage 5

24 August

Thursday 24 August

La Tour-de-Salvagny

Lac d'Aiguebelette

accidente

Stage 6

25 August

Friday 25 August

montagne

Stage 7 A

Montricher-Albanne

Les Karellis

clm_individuel

STAGE 7 B

Les Karellis

Val-Cenis Col du Mont Cenis

montagne

Stage 8

27 August

Sunday 27 August

Val-Cenis

Sainte Foy Tarentaise

montagne
History
The Tour de l'Avenir was created in 1961 by Jacques Marchand, editor-in-chief of the newspaper L'Équipe.
The race has changed names several times throughout its history. From 1972 to 1979, it was called the Peugeot Future Trophy in reference to its official sponsor.
Then from 1986 to 1990, this event took the name of the Tour of the European Community since it was organized by the competition of the European Community and the European Parliament.
And it was finally in 1992 that it took on the current name of Tour de l'Avenir.
At its birth, it brought together national teams made up of eight riders, half of whom were under 25 years old.
Gradually, the race was opened up to professionals.
Since 2007, the event has been entirely dedicated to young runners aged 19 to 23.
The Tour de l'Avenir is now part of the UCI U23 Nations Cup (category 2.Ncup).
The previous edition
| | |
| --- | --- |
| Winner | Cian UIJTDEBROEKS |
| Second | Johannes STAUNE MITTET |
| Third | Michel HESSMAN |
| Green Jersey | Casper VAN UDEN |
| Polka Dot Jersey | Cian UIJTDEBROEKS |
| Super combative rider | Romain GREGOIRE |
| Team Classification | ITALIE |